Pfizer Advancing Rapid Deployment Tablet Manufacturing Platform
In partnership with GEA and G-CON Manufacturing, Pfizer has created a first-of-a-kind manufacturing system that accelerates the speed of tablet production. By miniaturizing the equipment, the continuous process can be enclosed in a portable, modular facility called a POD, which can be transported to any location in the world and quickly assembled.
Recently installed at Pfizer's Groton Labs in Connecticut, the portable, continuous, miniature and modular (PCMM) prototype will run continuously, so Pfizer can quickly and efficiently deliver customized quantities of drugs to patients in need. The system transforms powders into uncoated tablets in minutes, a process that can take days or weeks with current technology.
This innovation comes at a time when the pharmaceutical industry has been trending toward lower-volume products, driven by an increased focus on precision medicine approaches to develop and commercialize new therapies.
To date, the biopharmaceutical industry has used batch processing to develop and manufacture tablets and capsules—an oftentimes complex process that requires large, dedicated manufacturing facilities. With PCMM, Pfizer and its partners are leading the way toward smaller, more flexible, continuous processing technologies, with the potential to transform the future of pharmaceutical development and manufacturing.
Want to learn more about PCMM? Check out these fast facts or take a look at our infographic below:
A PCMM facility has a 60 to 70% smaller footprint than a conventional production facility.

PCMM enables use of the same equipment for development, clinical trials and commercial manufacturing.

A PCMM facility takes about one year to set up and start running, compared to two to three years for standard processes.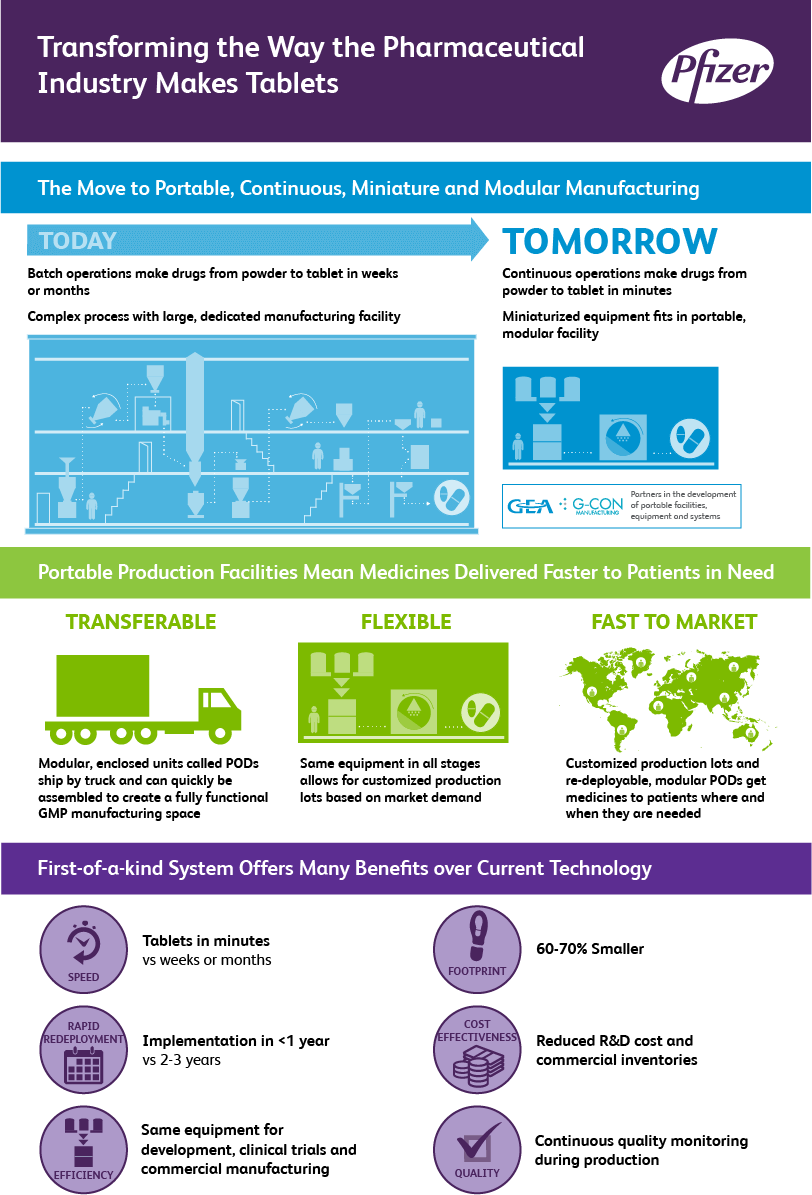 ​