Pfizer Colleagues Named
to List of 'Top 100 Most Influential Black People in Britain' for 2013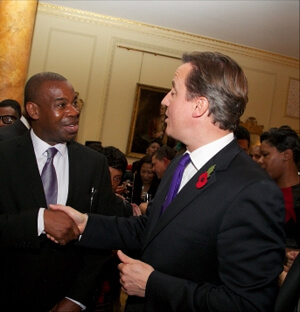 Pfizer's Dr. Akintunde Bello (left) meets British Prime
Minister David Cameron
Pfizer's Akintunde Bello and Yvonne Greenstreet were recognized for their contributions to science and medicine by Britain Prime Minister David Cameron.
Dr. Akintunde Bello, Senior Director and a Group Leader in Clinical Pharmacology, Pfizer Oncology, and Dr. Yvonne Greenstreet, Senior Vice President, Medicines Development Group, Pfizer Specialty Care, recently were named to The Powerlist Foundation's sixth annual PowerList of the top 100 of "Britain's Most Influential Black People" for 2013. The top 100 people are regarded as role models in their fields, ranging from arts, business, media, politics, science and sport, among others. Greenstreet and Bello were recognized for their contributions to the Sciences, Medicine and Engineering fields.
The qualification for selection to the list was "the ability to alter events and change lives in a positive way," noted Michael Eboda, publisher of the PowerList 2013.
"It's not about how much money someone has, but about how much influence they have. What we've realised is this is about role models primarily," said Eboda. "It's become more about showing youngsters that with a bit of hard work and dedication this is what you can do. We feel the easiest way of showing somebody what's possible is by showing them somebody who's already done it, who maybe looks like them and has come from a similar background as them."
According to the publication, Greenstreet was listed as "one of the most influential people in the pharmaceuticals sector globally." Bello was listed as "playing key roles" in the development, approval and life-cycle management for drugs for the treatment of diseases across several therapeutic areas (including oncology, pain and inflammation and infectious disease).
As part of their recognition, Bello and Greenstreet received a special invitation to a Black History Month reception held in the U.K., where Britain's Prime Minister, David Cameron, congratulated them individually.
Mr. Cameron, who provided the forward for the PowerList, wrote: "We should never underestimate the power of role models. When teenagers see high achievers who look like them, who have reached the top in law, business, politics, they are going to think, 'I can do that. I can go far too." Cameron goes on to write, "I'd like to thank those who made the list, for inspiring the next generation".
Eboda said about 20,000 copies of the PowerList 2013 would be sent to schools across the U.K.