By Julia Deutsch
Each summer, college and university students join Pfizer as part of our Summer Student Worker Program. The program, which offers summer employment opportunities at various Pfizer sites in the U.S., is designed to help Pfizer businesses and teams accomplish real, impactful projects, while giving students engaging and meaningful work experience. To apply to be a summer worker, visit our website.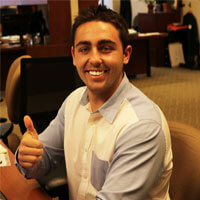 About Alex: Alex is a senior majoring in Political Science at UCLA and minoring in Entrepreneurship. This was his second summer as a Pfizer intern, having worked in 2016 in Sacramento with the Government Relations office. He enjoys the change in perspective being in New York and working in media relations brings. Alex considers himself a big sports fan and is considering sports management as a career path. New York is very different from his home state California, but he has enjoyed experiencing all the city has to offer. His favorite part about interning at Pfizer is that everyone is willing to take time out of their day to help you and make you want to come to work every day. From his perspective, we bring you a day in his intern life: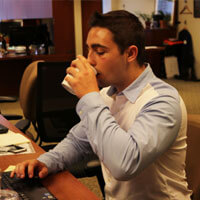 9:00 I kick-start my morning with a cup of coffee to give me the energy boost I need to begin my day. Ready to go, I swipe into work and head over to the Media room to check in with my supervisor. I work alongside two other interns in Media Relations, Julia and Rebecca. If there are no immediate tasks I need to get done, I like to skim news outlets for any applicable stories related to the pharmaceutical industry. It's important to stay up-to-date on any relevant information to be effective in my work.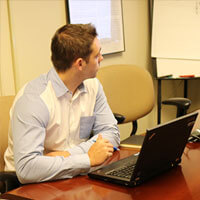 10:00 Around this time, I meet with Melanie, our Digital Analyst. I'm very interested in looking at how our content performs through on our websites and social media, so Melanie guides me through the math and technicalities behind the data. We review the metrics she uses in her reports so I can apply them to my own work and make them as clear as possible. I'm excited to get to expand my skills in analytics since it is a skill sought after by many businesses.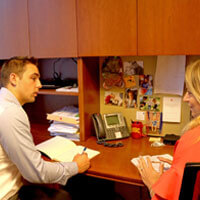 11:00 Before lunch I usually meet with Rachel, our Media Relations Director, to discuss stories she's working on with reporters, or potential stories on topics that have been hot in the pharma space. The way she handles these stories and manages company reputation as best she can is a great example of how best to interact with different kinds of people.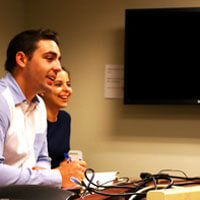 12:00 Our team lead often sets up meetings with various heads of departments within Communications at Pfizer, giving us the opportunity to learn about different teams within the organization. Today, our meet and greet is with Caroline, the editor-in-chief of the website Get Healthy Stay Healthy. This is a website run by Pfizer targeted to the general public that specifically addresses common health and wellness issues. These interactions are invaluable to me, giving me the chance to experience more levels of the business. Pfizer is a huge company so there are tons of colleagues to meet and no shortage of opportunities to learn.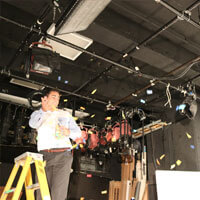 3:00 Being in the communications space gives us the opportunity for our creativity to come out in many different ways, including our social media posts. Today is particularly exciting because we are about to hit 5,000 followers on our Instagram account. In celebration of this milestone, we have selected people from our Communications team to film a boomerang post for Instagram. Every hand helps, so my duty for the day is getting up on a high ladder and tossing confetti onto four co-workers peeking around big gold balloons that say 5,000. It's exciting to showcase the playful side of our team to our followers.
4:00 By this time of day, I usually work on whatever task or project needs immediate attention and cannot wait until tomorrow. Right now I am creating social media content in support of Pfizer's role in preventing counterfeit drugs from reaching the marketplace. This topic is important to patients and healthcare providers and I look forward to being able to share some of the active measures Pfizer takes to protect the public. Swiping out of work at 5:00, I commute back to the apartment I share in Jersey City and relax with my buddies there.
About Julia: Julia is a senior majoring in Nutritional Sciences at Cornell with a minor in Business. She is from Armonk, New York and excited to be working in the city for the summer. Julia loves to cook and has interned at the Food Network on their communications team. As a creative person, Julia enjoys working on the digital communications team creating social media posts for our corporate Instagram account and managing social media content.