Pfizer Joins
NIH-Led Collaboration To Explore New Approaches for Existing Molecules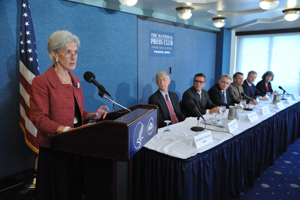 Health and Human Services Secretary Kathleen Sebelius
(l.) at the recent press event in Washington, D.C.
Pfizer is a pioneering partner in a National Institutes of Health (NIH) collaborative program that will match academic researchers with dozens of pharmaceutical industry-owned molecules to help scientists explore new treatments for patients. The NIH's National Center for Advancing Translational Sciences (NCATS) is initially partnering with a select group of pharmaceutical companies for the initiative's pilot phase.
The program — Discovering New Therapeutic Uses for Existing Molecules — was unveiled at a recent press event in Washington, D.C., that included NIH Director Dr. Francis Collins and Health and Human Services Secretary Kathleen Sebelius, who characterized the initiative as "crowdsourcing to some of our brightest minds."
Pfizer, AstraZeneca and Eli Lilly will each provide academic medical centers with access to molecules they are no longer developing due to a lack of efficacy in their primary indication(s) or for strategic reasons.
"This program is a 'metacollaboration' that grew out of a conversation at an NIH-Industry Roundtable, when Francis Collins expressed an interest in creating a new initiative that expanded on a program we had with an academic medical center," said Freda Lewis-Hall, Pfizer's Chief Medical Officer. "We worked with NIH to build a scalable model — not just one company collaborating with one university, but many companies, many universities and the NIH. We think it signals a key step forward for the emerging R&D ecosystem."
Turning Knowledge Into Therapies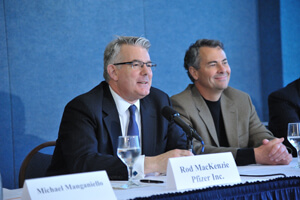 Pfizer's Rod MacKenzie, Group Senior Vice President,
Headof PharmaTherapeutics R&D (l.), with AstraZene-
ca's Don Frail
In recent years, significant advances have been made in enhancing the understanding of disease, but it has proven difficult to turn this knowledge into new therapies. NCATS was established last year to help address this gap.
"With the incredible advances we are seeing in biomedical science, we need to find new ways to work with researchers actively engaged in expanding our knowledge of disease," said Rod MacKenzie, Group Senior Vice President, Head of PharmaTherapeutics R&D at Pfizer. "This program will help us access new ideas from the entire NIH network of researchers — a truly unique opportunity to accelerate our collective knowledge of these molecules and pathways."
Some compounds do not prove effective for the specific use for which they were developed, but additional research may yield different therapeutic uses. One example is azidothymidine (AZT), which failed to show efficacy against cancer, but later became the first effective HIV medicine. Another is sildenafil, which was originally studied as a potential angina treatment, but went on to be developed as Viagra for erectile dysfunction and Revatio for pulmonary arterial hypertension.
"Clearly, we need to speed the pace at which we are turning discoveries into better health outcomes," said Collins, who thanked Pfizer for being instrumental in getting the initiative off the ground and providing unprecedented access to its compounds.
The initiative will direct researchers' attention to a part of the therapeutic pipeline that traditionally has been difficult for them to access: compounds that already have cleared several key steps in the development process, including safety testing in humans. Industry partners will retain ownership of their compounds, while academic partners will own any intellectual property they discover through the research project and the right to publish their results.
Click here to read the NIH's press release announcing the collaboration.