Pfizer South Africa
Named 'Best Employer' by CRF Institute in Pharmaceutical Category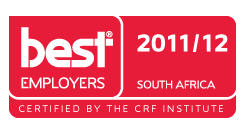 Pfizer South Africa's Biopharmaceutical Division has been recognized by the Corporate Research Foundation (CRF) Institute, an independent organization that identifies top corporate performers in the areas of human resources, leadership and strategy, as the country's Best Employer in the Pharmaceutical category.
The award recognizes the company for its "unwavering focus on products that make a difference to individuals, market-leading brands, [having] a positive impact on society and [for having] a cohesive workforce driven by the goal of improving the health of all South Africans."
The CRF Institute rates companies based on a policy and procedure measurement and benchmarking approach.
"We are very honored to have secured first place in 'The Best Employers in Industry' category," said Brian Daniel, CEO & Country Manager, Pfizer SA, Biopharmaceutical division. "Being branded No. 1 is awe-inspiring. Pfizer South Africa colleagues should be applauded as part of this achievement – it is truly only through our people that we succeed."
Doreen Nel, Human Resources Director added: "We have made significant strides in the improvement of our retention and attraction strategies and overall attractiveness to both current and future employees. However, having said this, we understand that in an ever-changing market like the one we have in South Africa, more needs to be done in order to stay ahead of the curve. This award demonstrates our continued commitment."