Report Focuses
on Importance of Preventive Care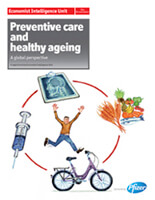 A new Pfizer-sponsored report developed by the Economist Intelligence Unit (EIU) sheds light on the importance of healthy aging and how preventive care programs can pay dividends for governments in debt.
The report, titled "Preventive Care and Healthy Ageing: A Global Perspective," profiles eight countries — Brazil, China, India, Japan, Russia, South Africa, the U.K. and the U.S. — and reveals that governments investing in healthy aging and preventive care programs can help reduce rising health costs.

"Currently, 605 million of the world's population is over the age of 60 and that number is expected to increase to 2 billion by 2050," said Pfizer's Dr. Jack Watters, Vice President, External Medical Affairs. "While it is good news that people are living longer, it is critical that we educate all people on the importance of preventive care and healthy aging."
The EIU report offers an authoritative, evidence-based, perspective that complements many of Pfizer's ongoing initiatives that encourage people of all ages to take positive steps to add healthy years to their lives, and play an active role in addressing the health challenges facing them and society.
The report concludes that preventive care, including adult immunization, is a key part of healthy aging and is important to developed and developing countries. In fact, immunization is highlighted as one of the most cost-effective preventive measures for older people; however, the measure is vastly underused due to structural and social barriers.
Other findings from the report include:
Age-related, infectious diseases such as pneumonia and influenza, as well as noninfectious chronic diseases like heart disease and stroke, are affecting older adults for longer periods of time, adding to health care costs and severely impacting a person's productivity and need for support.
Global health care reforms, increased mobility and evolving attitudes mean that governments incur costs for caring for their older citizens, and these governments are finding it difficult to keep up with the rise in chronic conditions since, to date, most health care systems have focused on treating acute illness.
In developing countries, where they lack the funding, technology, infrastructure and trained workers needed to offer basic medical services, preventive care measures are seen as unaffordable luxuries.
Overall, aging populations will result in an identical problem for developed and developing countries. They will have greater demand for healthcare services given their aging populations, but less income to support them.
"It's vital that companies, organizations, governments and public health bodies work together to ensure barriers are eliminated to allow for the healthy aging of society," said Watters. "We will only be successful if preventive care programs are supported by all stakeholders and integrated into national health care systems."