By Pfizer Medical Team
Food is an essential part of who you are, and when you eat meals full of vitamins and minerals, your body and overall sense of well-being reflects that every little thing your body does is because of the nutrients you give your body – which is why nutrition is a key dimension of Wellness.
By incorporating the MIND diet into your eating routine, your waistline will benefit – and so will your brain! This diet is a great way to promote a healthy body AND mind by ensuring you're getting all the necessary nutrients.
Here's how it works:
The MIND diet is specifically designed to help boost brain functioning while incorporating nutrient-rich foods from two other healthy diets: the Mediterranean and DASH.
By including brain-friendly foods like leafy greens, berries and fish, the MIND diet promotes a healthy mind-body connection and studies have shown to reduce the risk of Alzheimer's.
10 foods to eat on the MIND diet:
Green leafy vegetables (like spinach and salad greens): At least six servings a week
All other vegetables: At least one a day and choose non-starchy veggies for their low-cal/high nutrient ratio
Nuts (a variety of kinds): Five servings a week
Berries (like blueberries or raspberries): Two or more servings a week
Beans (all beans, lentils and soybeans): At least three servings a week
Whole grains (like oatmeal or quinoa): Three or more servings a day
Fish (like salmon or trout): Once a week
Poultry (like chicken or turkey): Two times a week
Olive oil: Use it as your main cooking oil
Wine: (Optional and as approved by your physician. This only applies if you are of legal drinking age.) One glass a day. Both red and white wine have benefits, but most research has focused primarily on red wine to help protect against Alzheimer's disease
5 foods to limit on the MIND diet:
Red meat: Less than four servings a week
Butter and margarine: Less than a tablespoon daily
Cheese: Less than one serving a week
Pastries and sweets: Less than five servings a week
Fried or fast food: Less than one serving a week
Preparing meals on the MIND diet
Making meals on the MIND diet doesn't have to be complicated. Just try to include the 10 suggested foods and food groups when you plan your meals. For example, have some plain yogurt with berries and sliced almonds for a simple breakfast. By practicing and maintaining healthy nutritional practices, you will be taking steps towards having a greater sense of well-being!
Want to get started on the MIND diet?
Download this tool.
The MIND Diet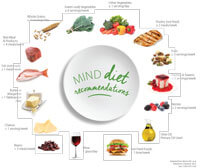 Download full brochure now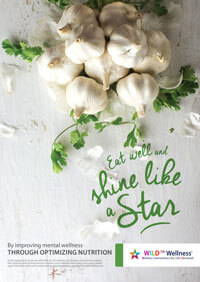 Following these recommendations should be under the care of your physician, as results may vary.
Medically reviewed by Elizabeth Pappadopulos, PhD, Global Medical Affairs, Pfizer
Visit Get Healthy Stay Healthy for more information on Your Health