When Giving Means
So Much More Than the Gift Itself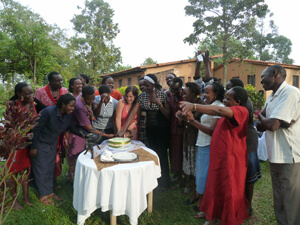 Brenda Mitchell (center, shown cutting cake) with
Infectious Disease Institute staff at her farewell get-
together in Uganda.
Brenda Mitchell's six-month assignment as a Pfizer Global Health Fellow may be over, but her commitment to the people of Uganda continues...along with the generosity of her Pfizer colleagues.
Uganda is a landlocked country in East Africa with many health and social challenges, particularly from AIDS. Mitchell, a registered general nurse who works in Pfizerýs Specialty Care Business Unit, returned to the Infectious Diseases Institute (IDI) in the capital, Kampala, late last year to continue her Global Health Fellows assignment, where she developed and implemented a training program for IDI's nurses. But she had some extra baggage this time around.
"At IDI, the nurses didnýt have their own laptop so, every week, they had to load presentations onto a laptop that could be used in the meeting room," she explained.
Mitchell's colleague, Grace Smith, a Senior Training Manager for Business Effectiveness, heard about this, and consequently she and her husband Mal donated one of their own laptops that they weren't using.
"By having their own laptop, the nurses will have all presentations and workshops loaded so that they can review them at any time," Mitchell said. "The laptop can also be borrowed by nurses to take home to work on assignments and study projects, rather than them having to come in to IDI on their weekend to work on a computer.
"When I handed over the laptop to the nurses they were so excited and overwhelmed with the generosity of Grace and Mal. It was fantastic to see the nurses' faces."
Mitchell also asked her colleagues for donations of clothing, toys, books and shoes to take to both the IDI and Sanyu Babies Home, a Ugandan care center for newborns to four-year-olds who have been abandoned, orphaned or left destitute. Mitchell's colleagues responded by donating approximately clothing, books and toys, while British Airways allowed Mitchell additional baggage and DHL offered approximately 220 pounds (100 kilograms) of free freight.
"This has been a huge help to families struggling over there — volunteers at IDI distributed to those in need," Mitchell added.
In addition to her original brief of a training program for IDI, Mitchell is also planning a workshop creating workplace culture and is personally offering funding for a nursing education scholarship.
"This has been great to continue to help with their motivation and I have already committed to return [to Uganda] this year," Mitchell noted. "One of our customers told me he would match my donation, so we will award the scholarship when I return."
Click here for more information about Pfizerýs Global Health Fellows program.