Medicine Safety Tips At Your Pharmacy
Anna visits her pharmacist, Dr. Rosa, to pick up the new medicine Dr. Chan has prescribed.
Deciding on the right pharmacy for you:1-4
Choosing a pharmacy and a pharmacist is important. You should find a pharmacy where you feel welcome and where the staff explains things well.
Remember that pharmacists are an important member of the healthcare team. When they prepare your medicines, they check your history and allergies, look for possible interactions, and contact your prescriber if they have any questions about the appropriateness of the medicine. When you use the same pharmacy for all your medicines, it will be easier for your pharmacist to know about your medicine history and changes in your prescribed medicines.
Be careful if you use an online pharmacy. About half of the medicines bought from websites that hide their addresses are counterfeit (fake). Learn more about how to spot the fakes.5
Some Questions to Ask a Pharmacist:
New medicine? Here are 10 questions to ask your pharmacist:6-7
What is the name of the medicine (brand and generic names)?
What is this medicine used for? How is it going to help me?
When should I notice a difference or improvement?
How (for example, by mouth or inhaled) and when should I take this medicine?
Should I avoid any foods, drinks, or other medicines while taking this medicine?
What are the possible side effects and how do I prevent or manage them?
What should I do if I miss a dose?
How should I store the medicine?
Does my insurance cover this medicine?
Where can I get written information about this medicine?
Print these questions so you have a copy the next time you go to the pharmacy.
Reading Your Prescription Label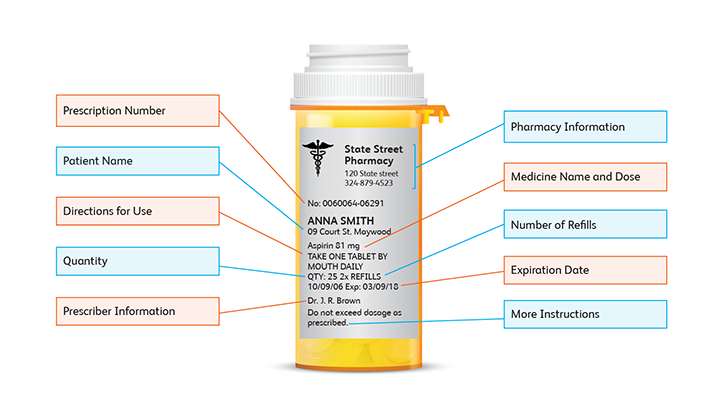 The label on your bottle contains important information to help you take the medicine as intended. Read the prescription label carefully.
Show that you understand how to use your medicine by repeating information about your prescription back to your doctor or pharmacist.8
Check your 5 Rights⁹
Right Patient (for example, Anna Smith)
Right Medicine (for example, aspirin)
Right Amount (for example, 81 mg)
Right Way (for example, by mouth)
Right Time (for example, once daily)
Helpful tips¹⁰
Refills1
Your prescription number may be used at your pharmacy to reorder your medicine. If the label says "0" refills and you will be continuing the medicine, let your pharmacy know ahead of time. Do not split pills or skip doses. Take your medicine as prescribed and speak with your doctor or pharmacist if you have any questions or concerns.
Cost11
If you cannot afford your medicines, you have options. Talk with your insurance company and your pharmacist. You can also check the website of the company that makes the medicine for assistance. Learn more about Pfizer's patient assistance program.
Packaging12
If you find it difficult to open your medicine bottle, request an easy-open cap from your pharmacy.
Remember to keep your medicines away from children and pets.
Get your questions answered! If you read something in the papers that come with your prescription, and it alarms or confuses you, be sure to ask your healthcare team.8