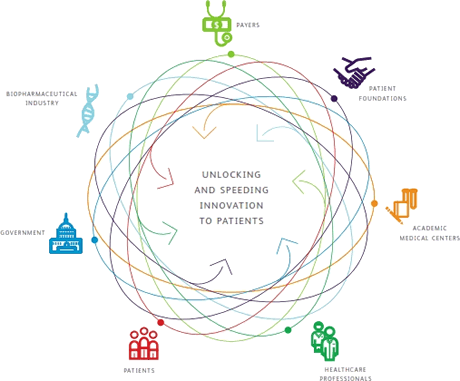 Key to expediting the translation of science into breakthrough therapies of tomorrow will be driving greater, deeper and stronger collaborations across the healthcare landscape. At Pfizer, we know we can't go at it alone and are actively supporting the development of an emerging, highly networked ecosystem that will catalyze tomorrow's health innovation.
In this journey, we hope to advance unique models of partnerships with creativity, flexibility and openness to deliver innovation quickly regardless of where the talent and resources live. This includes working with patient foundations, patients, government, payers, healthcare professionals, academia and even some of our fiercest competitors in the biopharma industry.
Recent examples of our collaborations across the healthcare ecosystem include:
Cystic Fibrosis Foundation Therapeutics (CFFT): In 2012 Pfizer and CFFT, the nonprofit drug discovery and development affiliate of the Cystic Fibrosis Foundation, expanded our research collaboration to speed the discovery and development of potential therapies that target the underlying cause of cystic fibrosis. The program's goal is to advance one or more drug candidates into the clinic by the end of the six year research collaboration.

Centers for Therapeutic Innovation (CTI): Pfizer's CTI is a model for academic-industry collaboration, designed to bridge the gap between early scientific discovery and its translation into new therapies. Through CTI facilities in Boston, San Francisco/San Diego, and New York, Pfizer and academic teams work side-by-side, blending the research expertise of academics in disease biology, targets, and patient populations with Pfizer's developmental expertise and resources. Pfizer funds pre-clinical and clinical development programs, offers equitable intellectual property and ownership rights, and provides access to Pfizer's antibody libraries and other proprietary technologies.

NCATS: Pfizer is a pioneering partner in the National Center for Advancing Translational Sciences (NCATS), a new division of the U.S. National Institutes of Health (NIH). NCATS provides a collaborative program to match academic researchers with dozens of pharmaceutical industry-owned molecules. This emerging meta-collaboration among government, academia and industry focuses on a portion of the therapeutic pipeline that traditionally has been difficult for academic researchers to access: compounds that already have cleared safety testing in humans. Industry partners retain ownership of their compounds, while academic partners own intellectual property they discover using these compounds, along with the right to publish their results. Some compounds are not effective for their initial intended use, but additional research may yield different therapeutic uses.