International Trachoma Initiative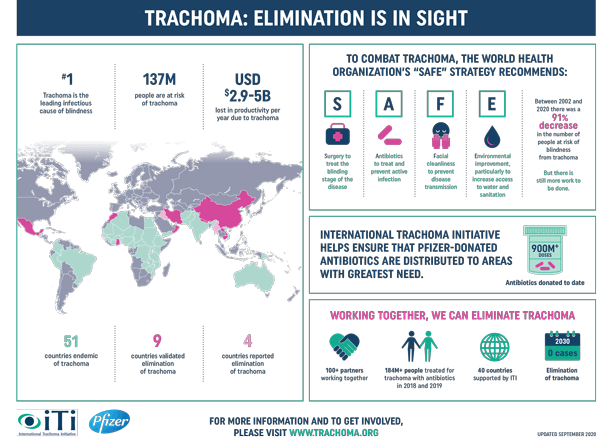 Our Purpose:
At Pfizer, we believe that all people deserve access to quality healthcare and the opportunity to lead healthy lives. We combine traditional philanthropic efforts with innovative therapeutic and healthcare practices to create meaningful and sustainable solutions that address today and tomorrow's biggest challenges, helping to protect the world's most vulnerable people.
Through the power of our partnerships, we are seeking to address health inequities and deliver lasting change, by building healthcare capacity, expanding access to medicines and offering community support through corporate citizenship initiatives.
As part of our belief that all patients should have access to the medicines they need, we are proud to support our robust and longstanding antibiotic donation program, working to help end the suffering and cycle of poverty caused by trachoma – a neglected tropical disease (NTD) and leading infectious cause of blindness worldwide.1
Repeated trachoma infection can develop into trichiasis – where eyelids turn in and lashes scrape the eyeball, causing great pain, corneal ulcers and irreversible blindness unless treated with antibiotics or a simple surgical procedure. Trachoma is both a cause and a consequence of poverty, and as of March 2020, there were 137 million people living in trachoma-endemic areas in 51 countries around the world.1,2
Our Work:
In 1998, Pfizer and the Edna McConnell Clark Foundation co-established the International Trachoma Initiative (ITI), an independent not-for-profit organization dedicated to eliminating trachoma. As a program of The Task Force for Global Health, the ITI manages the allocation and distribution of Pfizer's donated antibiotic, Zithromax® (azithromycin) to treat active trachoma infections. ITI collaborates with governmental and nongovernmental agencies at local, national, and international levels to implement the World Health Organization (WHO) recommended SAFE strategy for trachoma control:
Surgery to treat the blinding stage (trachomatous trichiasis)
Antibiotics to treat and prevent active infection
Facial cleanliness to prevent disease transmission
Environmental improvement, particularly to increase access to water and sanitation
Our Partners:
Through the ITI, Pfizer is partnering with a number of global health organizations to eliminate trachoma. These include: governments, United Nations agencies, World Health Organization (WHO), United States Agency for International Development (USAID), United Kingdom Department for International Development (DFID), The Bill & Melinda Gates Foundation, The Carter Center, CBM, The Fred Hollows Foundation, Helen Keller International, The International Agency for the Prevention of Blindness, Kilimanjaro Centre for Community Ophthalmology, Light for the World, Lions Clubs International, London School of Hygiene and Tropical Medicine, Organisation pour la Prévention de la Cécité, Orbis, The Queen Elizabeth Diamond Jubilee Trust, RTI International, Sightsavers, Wilmer Eye Institute at Johns Hopkins and World Vision.
Our Impact:
As of September 2020, Pfizer has donated more than 900 million doses of Zithromax® (azithromycin) to the ITI
Since the start of the program in 1998, more than 100 million people in 40 countries have been treated3
Oman became the first country to achieve validation of elimination by the WHO in 2012. Since then, Cambodia, China, Iran, Ghana, Laos, Mexico, Morocco and Nepal have also received validation from the WHO as having eliminated trachoma as a public health problem4
To learn more about the International Trachoma Initiative, please visit www.Trachoma.org.
Working together, we can address some of the world's biggest global health challenges.
Additional Resources:
1. https://www.who.int/news-room/fact-sheets/detail/trachoma
2. https://www.who.int/trachoma/epidemiology/en/#:~:text=Blinding%20trachoma%20is%20endemic%20in,whom%201.2%20million%20are%20blind
3. https://www.trachoma.org/where-we-work#event-morocco
4. https://apps.who.int/iris/bitstream/handle/10665/325910/WER9429-en-fr.pdf?ua=1