BECOME A CLINICAL TRIAL SITE WITH PFIZER
Clinical trials depend on the experience of healthcare professionals who have dedicated themselves to clinical research. Pfizer is proud to partner with over 6,000 investigators and site staff to conduct our clinical trials around the world. Whether you're driven by helping patients, advancing medicine, or both, you could help create the next breakthrough.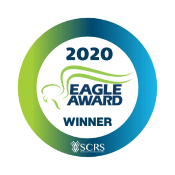 2020 EAGLE AWARD WINNER
In 2020, the Society for Clinical Research Sites recognized Pfizer with the prestigious Eagle Award for the second year in a row. This award is in recognition of the excellence that we can achieve together with dedicated clinical trial partners like you.
Clinical Trials Are Made Possible By Passionate and Dedicated Professionals
BECOME A STUDY SITE PARTNER
Pfizer develops breakthroughs medicines and vaccines across a wide variety of diseases and therapeutic areas.
If our therapeutic areas of focus align with your areas of interest, email us your contact details, institution or site name and therapeutic areas of interest. Together, breakthroughs are possible.