The Phase 3 clinical trial was designed to determine if the Pfizer-BioNTech COVID-19 vaccine is safe and effective in preventing COVID-19 disease. This trial began July 27, 2020 and completed enrollment of 46,331 participants in January 2021. On November 18, Pfizer and BioNTech announced that, after conducting the primary efficacy analysis, their mRNA-based COVID-19 vaccine met all of the study's primary efficacy endpoints. On December 2, 2020, the Medicines & Healthcare Products Regulatory Agency (MHRA) in the U.K. authorized the Pfizer-BioNTech COVID-19 Vaccine for emergency use, marking the first Emergency Use Authorization following a worldwide Phase 3 trial of a vaccine to help fight the pandemic. Shortly after on December 11, 2020, the U.S. Food and Drug Administration (FDA) authorized the Pfizer-BioNTech COVID-19 Vaccine for emergency use. A mere 13 months after trial initiation, the vaccine became the first FDA approved COVID-19 vaccine on August 23, 2021.
For more information on the landmark study, please see the clinical trial protocol.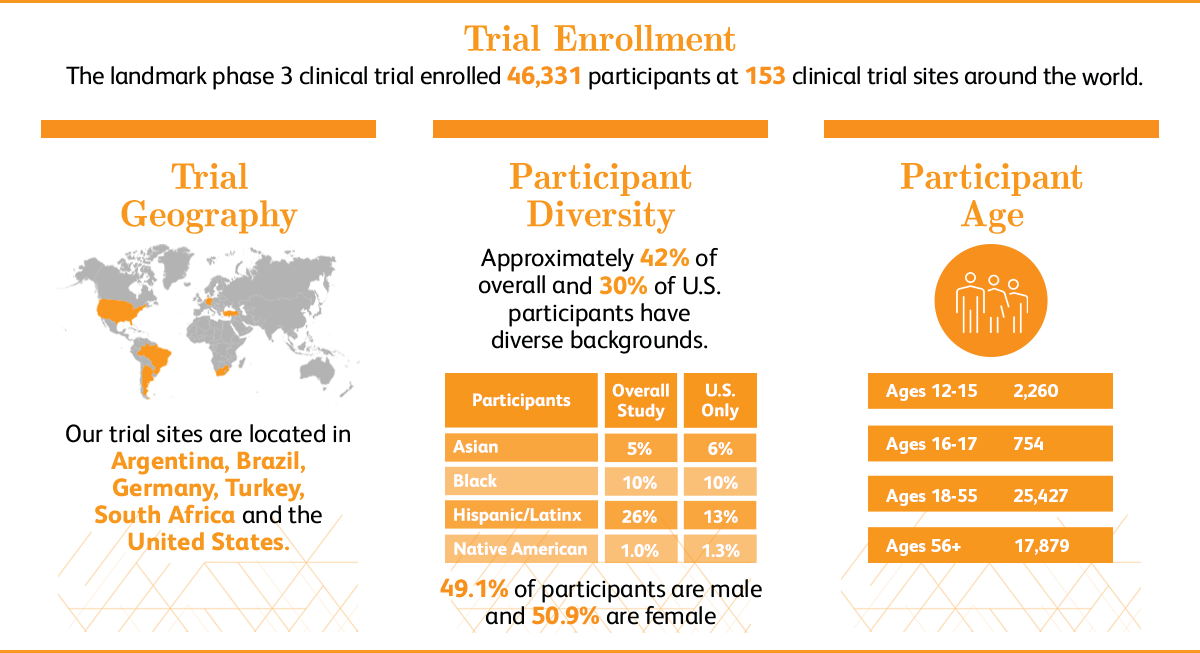 What were the endpoints in your Phase 3 landmark study?

The primary endpoints of the COVID-19 vaccine study were safety and to evaluate the efficacy of the vaccine candidate in preventing COVID-19 disease in participants who had not been infected with the SARS-CoV-2 virus before they received the vaccine, and to evaluate potential prevention of COVID-19 disease in participants who had prior exposure to SARS-CoV-2.

The primary efficacy endpoints evaluated confirmed COVID-19 cases occurring 7 days or more after the second dose. The primary analysis also included, with the approval of the FDA, secondary endpoints evaluating efficacy based on COVID-19 cases occurring 14 days after the second dose. Pfizer and BioNTech believe that the addition of these secondary endpoints enabled assessment of data across all COVID-19 vaccine studies and allowed for cross-trial learnings and comparisons between various vaccine platforms.

Pfizer also plans to continue to evaluate safety and long-term outcomes data from participants for a full two years.

Why was the landmark Phase 3 study randomized and placebo-controlled – why not give everyone the vaccine candidate?

There are many different types of clinical studies. Randomized, placebo-controlled studies are considered the "gold standard" in clinical research, because they eliminate potential biases when interpreting data.

One reason we chose this type of study to test our vaccine candidate was that it helped us understand whether people who received the vaccine candidate were better protected from COVID-19 disease than people who do not receive it.

Who participated or was able to participate in the landmark Phase 3 study?

We enrolled 46,331 people in the trial, with the majority of participants ranging from ages 16-56. Additional trial populations included people as young as 12 years old and people with chronic, stable human immunodeficiency virus (HIV), Hepatitis C virus (HCV), or Hepatitis B virus (HBV) infections. We believe that doing so enabled more individuals who were at risk of COVID-19 disease to have the opportunity to participate in the study. As with the vaccine candidates we test in adult populations, we followed a careful, stepwise approach as we moved down to younger age groups.

What have you observed with the 12-15 year olds participating in the trial?

In March 2021, Pfizer and BioNTech announced positive topline results of the pivotal COVID-19 vaccine study in 2,260 adolescents ages 12-15. All participants in the trial will continue to be monitored for long-term protection and safety for an additional two years after their second dose.

On April 9, 2021, the Companies have submitted these data to the FDA and requested an amendment to the Emergency Use Authorization of BNT162b2 to expand use in adolescents 12-15 years of age.

How were you able to move with speed in the landmark Phase 3 trial?

Even though we moved with extraordinary speed, preservation of high quality and safety standards was critically important throughout development. We took all of the regulatory and operational steps that we would normally take for all of our vaccine trials, maintaining the highest standards in our development process. This required enormous mobilization of Pfizer and BioNTech resources upfront at a scale never seen before. We also worked closely with regulatory agencies, providing near real-time data and receiving review and advice more quickly than ever before, to support the development of this potential vaccine as quickly as possible.
Pfizer-BioNTech COVID-19 Vaccine has not been approved or licensed by FDA, but has been authorized for emergency use by FDA, under an EUA to prevent Coronavirus Disease 2019 (COVID-19) for use in individuals aged 6 months through 11 years of age. The emergency use of this product is only authorized for the duration of the declaration that circumstances exist justifying the authorization of emergency use of the medical product under Section 564(b) (1) of the FD&C Act unless the declaration is terminated or authorization revoked sooner.