Pfizer Named One of 'Top 50'
for Diversity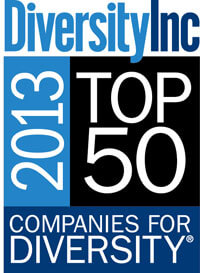 Pfizer placed 28 out of 893 in DiversityInc magazine's annual ranking of U.S. companies' commitment to diversity.
The editors of DiversityInc have named Pfizer to the magazine's 2013 list of "Top 50 Companies for Diversity."
The annual survey, now in its 14th year, leads to a ranking based on four key areas of diversity management: chief executive officer commitment; human capital; corporate and organizational communications; and supplier diversity.
"We are proud of this accomplishment and acknowledge the collective work of our colleague resource groups and colleague councils around the world," said Tanya Clemons, Senior Vice President and Chief Talent Officer. "We've been building this foundation year over year and being recognized in 2013 reflects the progress we have been making."
The DiversityInc editors acknowledged Pfizer's strong focus on talent-development initiatives for women and people from diverse backgrounds and its variety of formal mentoring initiatives. The company's global colleague resource groups were also a factor. "These groups - focused on Blacks, Latinos, Asians, LGBT colleagues, women, colleagues with disabilities, and veterans - help to improve colleague engagement, create a more diverse and inclusive environment, and ultimately drive business value," said Beth McCormick, Vice President of Diversity and Inclusion.
"Pfizer's diversity and inclusion strategy strengthens our ability to realize a culture of confidence and trust," she added. "By building an ownership culture and driving forward-thinking strategies, we are able to unlock the total potential and engagement of our rich global network of diverse colleagues."
For more information, visit DiversityInc's website.