Canadian Musicians Rock for
Cancer
By Josée D'Amours, PfizerWorld Correspondent Network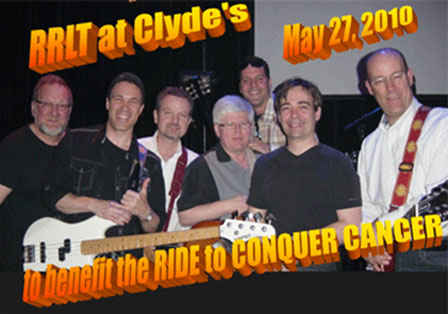 Colleague band members from left: Stanley Schmidt, André Dupras, Derek
Sadko, Kevin O'Farrell, Pascal Byers, Frédéric Lavoie and Pierre Martineau
For the past five years, a small group of musically minded Canadian colleagues from Montreal has performed together as the "Rock-and-Roll Leadership Team," or RRLT.
They originally came together to play for colleagues at Pfizer office parties and Town Halls, but then saw an opportunity to turn their love of music to worthy causes. So for the past few years the band has performed at fund-raisers across Canada and has raised more than $20,000 for various causes.
"We are all musicians — of varying degrees," jokes band member Kevin O'Farrell, Vice President, Business Effectiveness, Primary Care. "We started playing just for our colleagues, and the fund-raisers were a great opportunity for us."
The band's most recent fund-raising performance supported the "Ride to Conquer Cancer," a two-day cycling event to raise funds for cancer research and care at the Segal Cancer Centre at the Jewish General Hospital, which is a McGill University teaching hospital in Montreal.
The group specializes in rock-and-roll dance music from the '60s to the present and often performs hits from the Rolling Stones, Billy Idol, BTO, U2, REM, Tragically Hip, Van Halen and Stevie Ray Vaughn.
Besides O'Farrell, the band counts among its members several Pfizer Canada colleagues including Stanley Schmidt, Talent Management Advisor; André Dupras, National Sales Director, Primary Care; Derek Sadko, Regional Business Director, Primary Care; Frýdýric Lavoie, Director, Patient Access; and Pierre Martineau, Director, Medical Affairs, Primary Care. Pascal Byers, Regional Lead Compensation & Benefits — Canada, is also a member. The band's newest member is singer Megan Smith, daughter of Ron Smith, Director, Worldwide Procurement, Canada.