By Pfizer Medical Team on Get Healthy Stay Healthy
By nature, we are often very social creatures, and when we connect with friends and family through fun and engaging activities, we're actually helping to maintain our sense of well-being.
Social connectedness is the measure of how people come together and interact—and we're not talking about how many posts you share with your friends on Facebook!
When you're dealing with stress, depression or anxiety, you may be tempted to become less social, but that can create a cycle that leaves you feeling more isolated, anxious, and depressed.
Get friendly with the rule of two Q's
#1: Quantity
How often you socialize is very important. Try to connect with someone on a more frequent basis. Maybe call a friend for a quick chat during your lunch hour—even that brief interaction can make a difference in how you feel. Or email or text someone or—better yet—get together with a dear friend or family member in person.
#2: Quality
The quality of relationships you develop with people can make a difference. Experts recommend that you avoid toxic relationships or those that violate your personal boundaries. Try to connect with people who could enrich and nourish you.
Here are a few questions you can ask yourself before spending time with someone:
Is this person negative or upbeat?
Do we share a strong bond?
Are we able to have deep conversations?
Need help improving your social connectedness?
Volunteer. It's a great way for you to start building a sense of community, which in turn can help you make new friends and connect with others. People who volunteer have reported an increase in overall happiness, improved physical health, greater self-esteem and self-confidence.
Join a group. If you enjoy reading or dancing, joining a book club or dance group can be a good way to meet people with similar interests.
Explore a new activity. Take a friend and enroll in a painting, photography or cooking class. It can be a good way to meet new people and expand your social group.
Want to get started with becoming more socially connected?
Download these tools.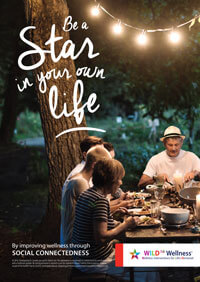 Following these recommendations should be under the care of your physician, as results may vary.
Medically reviewed by Elizabeth Pappadopulos, PhD, Global Medical Affairs, Pfizer
Visit Get Healthy Stay Healthy for more information on Your Health