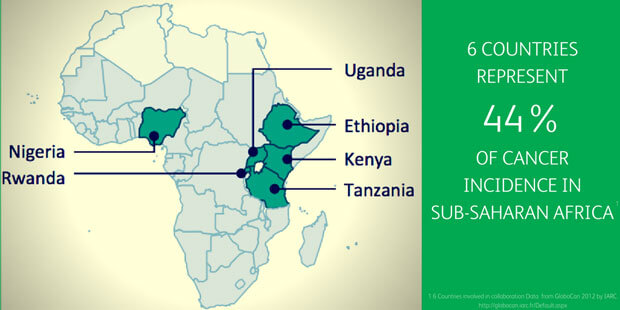 Diseases like malaria, AIDS and tuberculosis have afflicted the people of Africa for decades so it is understandable why governments have focused efforts and funds on the treatment of these diseases. However, non-communicable diseases, including cancer, are a significant cause of mortality in sub-Saharan Africa. In fact, cancer kills more people in Sub-Saharan Africa than malaria or tuberculosis.i
Pfizer has a deep heritage in collaborating on patient-centric programs in Africa that expand access to potentially life-saving medicines and to help enhance the healthcare infrastructure in some of the most under-developed countries. As part of this commitment, Pfizer is collaborating with The American Cancer Society (ACS) and the Clinton Health Access Initiative (CHAI) to expand access essential cancer treatment medications, including chemotherapies, in Cameroon, Ethiopia, Ghana, Malawi, Nigeria, Kenya, Uganda, Rwanda, Zambia, Zimbabwe and Tanzania. Our agreement sets competitive prices on the medicines, thus allowing African governments to realize substantial savings while improving the quality of available treatment. Cancer in Africa is growing rapidly as the population ages. While other top causes of death are holding steady or declining, annual cancer deaths in sub-Saharan Africa are projected to more than double by 2030 to 984,000, almost matching the deaths from HIV, which are projected to be 1.3 million.
Many factors contribute to the limited treatment in this area of the world. This collaboration aims to improve access to essential medicines in cancer treatment but the lack of infrastructure and facilities also play a major role. Breast and cervical cancer, which account for about 30% of cancers in the region, are highly treatable and preventable so finding ways to get to patients early with the support they need is important. ii
This collaboration is part of a broader effort led by ACS and supported by CHAI to improve the environment for cancer care in Africa. Pfizer became a partner in 2017, providing 11 essential cancer treatment medications and chemotherapies to patients in Ethiopia, Nigeria, Kenya, Uganda, Rwanda and Tanzania. In 2020, the program evolved to include new partners, new treatment offerings and a broader geographical reach. We remain committed to this model that helps to reduce the overwhelming burden on patients and healthcare systems, and we are proud to be able to expand our chemotherapy offerings under the program to better serve the needs of patients.
ACS does not endorse any product or service nor any particular brand of cancer drugs. ACS is not a provider of medical services and is not responsible for any drugs, screening, diagnosis, or medical treatment.
i World Health Organization. Global health estimates summary tables: Projection of deaths by cause, age and sex, by World Bank regions [Internet]. Geneva, World Health Organization; 2013 [cited 2017 Apr 28]. Available from: http://www.who.int/healthinfo/global_burden_disease/projections/en/
ii International Agency for Research on Cancer. GLOBOCAN 2012: Estimated Cancer Incidence, Mortality and Prevalence Worldwide in 2012 [Internet]. 2014 [cited 2014 May 12]. Available from: http://globocan.iarc.fr/Default.aspx