Coronavirus Scientific Resources
Resources to educate and collaborate on COVID-19 responses
In confronting this crisis, we believe that science will win. Be sure to keep up with all of our important updates surrounding COVID-19, including press releases, supply updates and more.
The Pfizer-BioNTech COVID-19 vaccine has not been approved or licensed by the U.S. Food and Drug Administration (FDA), but has been authorized for emergency use by FDA under an Emergency Use Authorization (EUA) to prevent Coronavirus Disease 2019 (COVID-19) for use in individuals 16 years of age and older. The emergency use of this product is only authorized for the duration of the declaration that circumstances exist justifying the authorization of emergency use of the medical product under Section 564(b)(1) of the FD&C Act unless the declaration is terminated or authorization revoked sooner. Please see EUA Fact Sheet at www.cvdvaccine.com.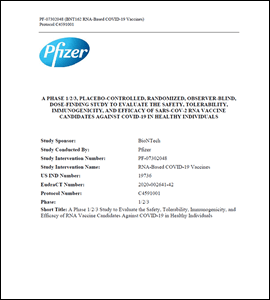 Featured Coronavirus Publication
A Phase 1/2/3 Study to Evaluate the Safety, Tolerability, Immunogenicity, and Efficacy of RNA Vaccine Candidates Against COVID-19 in Healthy Individuals
HOW PFIZER'S COVID-19 Vaccine CLINICAL TRIAL IS DESIGNED
Pfizer has a deep heritage in vaccine development. Our team of in-house experts has decades of experience developing vaccines and study protocols (a document that outlines the objectives, design, and methodology for a clinical trial), to potentially help prevent serious, emerging, and life-threatening infections and diseases.
We have made the protocol for our COVID-19 vaccine study available to reinforce our longstanding commitment to scientific and regulatory rigor that benefits patients. Learn more about the protocol and our study below.
Frequently Asked Questions:
Trial Design
What is the goal of the Pfizer and BioNTech COVID-19 vaccine study?
The Phase 3 part of our study is designed to determine if Pfizer and BioNTech's vaccine candidate, called BNT162b2, is safe and effective in preventing COVID-19 disease, when compared to placebo.
How will you determine if the study met its goal?
Pfizer and BioNTech conducted a final efficacy analysis in the Phase 3 study of our COVID-19 vaccine candidate and determined all primary and secondary efficacy endpoints were met. The vaccine was 95% effective in participants without prior SARS-CoV-2 infection and also in participants with or without prior SARS-CoV-2 infection, in each case at 7 days after the second dose.
What are the endpoints in your study?
The primary endpoints of our COVID-19 vaccine study are to evaluate the efficacy of the vaccine candidate in preventing COVID-19 disease in participants who have not been infected with the SARS-CoV-2 virus before they receive the vaccine, and to evaluate potential prevention of COVID-19 disease in participants who have had prior exposure to SARS-CoV-2.

The primary efficacy endpoints evaluate confirmed COVID-19 cases occurring 7 days or more after the second dose. The final analysis also will include, with the approval of the FDA, secondary endpoints evaluating efficacy based on COVID-19 cases occurring 14 days after the second dose. Pfizer and BioNTech believe that the addition of these secondary endpoints will enable assessment of data across all COVID-19 vaccine studies and allow for cross-trial learnings and comparisons between various vaccine platforms.

Pfizer also plans to continue to accumulate safety and long-term outcomes data from participants for a full two years.
How is the study designed and reviewed over time?
The study is taking place in multiple locations (multi-center), in different countries (multi-national), and participants have a 50% chance of receiving either the vaccine candidate or a placebo (randomized, placebo-controlled).

The study is also "observer-blinded," which means that trial participants and investigators do not see the vial that contains the vaccine candidate or placebo. This accounts for any visual differences that may exist between the vaccine candidate and placebo, and adds to the rigor of the study.

Participants are given two doses of the vaccine candidate or placebo, 21 days apart. Participants will continue to be monitored for long-term protection and safety for an additional two years after the second dose.

The study is a case count, or "event-driven," study: investigators report the number of cases of COVID-19 disease that occur in those who receive the vaccine candidate and those who receive the placebo. If there are many more COVID-19 cases in the placebo group, as compared to the vaccine group, this is scientific evidence that our vaccine candidate is effective in preventing COVID-19 disease.

Pfizer and BioNTech recently announced that based on an analysis of 170 cases of COVID-19 in trial participants, the vaccine efficacy rate was 95% in participants without prior SARS-CoV-2 infection and also in participants with and without prior SARS-CoV-2 infection, in each case measured from 7 days after the second dose. 162 cases of COVID-19 were observed in the placebo group versus 8 cases in the vaccine group.
Why is the study randomized and placebo-controlled – why not give everyone the vaccine candidate?
There are many different types of clinical studies. Randomized, placebo-controlled studies are often considered the "gold standard" in clinical research, because they eliminate potential biases when interpreting data.

One reason we chose this type of study to test our vaccine candidate is that it will help us understand whether people who receive the vaccine candidate are better protected from COVID-19 disease than people who do not receive it.
Who is participating or able to participate in the study?
We expanded our initial, planned enrollment in the study from 30,000 people to approximately 44,000 people. This allowed us to include additional populations, including people as young as 12 years old and people with chronic, stable HIV (human immunodeficiency virus), HCV (Hepatitis C virus), or HBV (Hepatitis B virus) infections. We believe that doing so enabled more individuals who are at risk of COVID-19 disease to have the opportunity to participate in the study. As with the vaccine candidates we test in adult populations, we are following a careful, stepwise approach as we move down to younger age groups.

To ensure the study provides substantial data, participants in the study must fit certain standards, called "inclusion criteria." Inclusion criteria for this study are:

Healthy males or females over the age of 12

Willing and able to comply with all scheduled visits, laboratory tests, lifestyle restrictions and other study procedures

In the judgment of the investigator, higher than average risk for COVID-19 infection (including, but not limited to, use of mass transportation, relevant demographics, and employment as frontline essential workers)

The earlier we can understand the safety and efficacy of our vaccine candidate in our current study population, the sooner we can work with the FDA and other regulatory authorities to potentially study the vaccine candidate in other populations, including pregnant women.
Maintaining Safety & Integrity
What mechanisms are in place to ensure the integrity of the trial?
Before our trial began, the protocol was reviewed and approved by the U.S. Food and Drug Administration (FDA), regulatory authorities in the other countries where the trial is taking place and institutional review boards (IRBs) or ethics committees.

Throughout the trial, progress is closely tracked by an external group of independent experts, called a Data Monitoring Committee (DMC), which also monitors our study for safety on an ongoing basis.
What is an Institutional Review Board (IRB)?
An IRB is a group appropriately constituted under FDA regulations that has been formally designated to review and monitor biomedical research involving humans. An IRB has the authority to approve, require modifications in or disapprove research. This review serves an important role in the protection of the rights and welfare of research participants.

The purpose of the IRB is to assure, both in advance and by periodic review, that appropriate steps are taken to protect the rights and welfare of people participating in the research. To accomplish this purpose, IRBs use a group process to review research protocols and related materials (e.g., informed consent documents and investigator brochures) to ensure protection of the rights and welfare of participants.
What is the Data Monitoring Committee (DMC) and how is it structured?
The DMC for our COVID-19 vaccine trial currently consists of a chairperson and four additional members. The members are experts with extensive experience in pediatric or adult infectious diseases, vaccine safety and statistics. All DMC members have prior experience as members of DMCs.
How are you keeping study participants safe, and making sure the trial is conducted in a fair, open and ethical way?
Participant safety is our number one priority. As with all our trials, we are following strict rules and regulations to protect the safety of the participants. The trial's progress is closely monitored by both Pfizer and an independent external Data Monitoring Committee (DMC). Trial investigators are also responsible for monitoring participants' health, and participants have regular planned follow-up visits as part of the trial.
What is a "serious adverse event" and what will happen if a trial participant reports one?
A serious adverse event (SAE) in this trial, and in all standard clinical protocols, is any untoward medical occurrence that causes death, is life-threatening, requires hospitalization, or results in disability, whether or not it is considered related to the investigational vaccine or other product being studied.

Serious Adverse Events Following Immunization (AEFI) in the clinical trial are analyzed to understand if they could be causally related to the trial intervention, and follow-up actions are taken as appropriate.

AEFIs are reported to regulatory agencies, as well as to an outside group of independent experts called the Data Monitoring Committee (DMC), which has access to unblinded data. 

To date, the Data Monitoring Committee for the study has not reported any serious safety concerns related to the vaccine. 
Next Steps & Timing
Now that you have determined the vaccine candidate works, what are the next steps?
On November 20, we announced we will submit a request to the U.S. Food and Drug Administration for an Emergency Use Authorization (or EUA) of our mRNA vaccine candidate. If accepted, this will potentially enable use of the vaccine in high-risk populations in the U.S. by the middle to end of December 2020.

We also plan to continue the study to collect safety and long-term outcomes data from participants for a full two years.

Pfizer and BioNTech intend to submit the efficacy and safety data from the Phase 3 trial for peer review in a scientific journal once we have completed our analysis of the data.
Will long-term safety and effectiveness be tracked beyond the trial?
We will monitor participants' health for two years after they receive their second dose of the vaccine candidate or placebo. Pfizer will continue to perform safety surveillance after potential licensure of a COVID-19 vaccine, if that occurs, and government authorities, such as the Centers for Disease and Control (CDC), would also conduct safety surveillance.
APPLYING OUR SCIENTIFIC EFFORTS TO ADDRESS THE EPIDEMIC
Antiviral Efforts -
Advancing our protease inhibitors:
Vaccine Efforts -
Potentially preventing infections using mRNA vaccines:
Anti-infective Efforts -
Sharing azithromycin data:
In an effort to share information that could benefit COVID-19 mitigation efforts, Pfizer researchers published a review in Clinical Pharmacology and Therapeutics which assesses published in vitro and clinical data regarding azithromycin as an agent with antiviral properties. This open access review may serve to facilitate the use of azithromycin in future research on COVID-19. Azithromycin is not approved for the treatment of viral infections.
Research that may inform future vaccination guidelines
Pfizer Inc. and the Liverpool School of Tropical Medicine's Respiratory Infection Clinical Research Group launched two new studies to provide insights on the interaction between S. pneumoniae and SARS-CoV-2. Pfizer's collaboration agreement with Liverpool provides funding and in-kind laboratory testing support for this research.
Collaborating to address COVID-19
As outlined in Pfizer's five-point plan, the company has been collaborating across the healthcare innovation ecosystem ranging from large pharmaceutical companies to the smallest of biotech companies, from government agencies to academic institutions to address the COVID-19 global health care crisis.
If you're a researcher interested in collaborating, contact [email protected]
Existing collaborations:
For additional information about Pfizer, please see our filings with the U.S. Securities and Exchange Commission, including the information provided in the sections captioned "Risk Factors" and "Forward-Looking Information and Factors That May Affect Future Results".