Site Statistics
4.5-acre site with more than 150,000-square-feet of state-of-the-art facilities featuring specialized laboratories and equipment
Joined Pfizer in 2019; the facility brings together nearly 300 employees
Located in the heart of Boulder near the prestigious University of Colorado Boulder and the picturesque Flatirons
Functions: Enzymology and Structural Biology, Cell Biology, Biostatistics, Medicinal Chemistry, Clinical Sciences and Operations, Commercial, Diagnostics, Drug Metabolism and Pharmacokinetics, Drug Safety, Early Clinical Development, Manufacturing, Medical Affairs, Medical Writing, Pharmaceutical Sciences, Pharmacology, Toxicology Quality, Regulatory, Translational Biology
Primary Therapeutic Areas: Oncology
Key Technologies: Structural and Computational Biology, Analytical Chemistry, Computational Chemistry, Proteomics, Spray-Dried Dispersions, Advanced Formulations
History and Overview:
In July 2019, Pfizer acquired Array BioPharma Inc., a Boulder-based biopharmaceutical company focused on the discovery, development and commercialization of targeted small molecule drugs to treat patients afflicted with cancer and other high-burden diseases. Following the acquisition of Array, Pfizer Boulder R&D joined the company's vast network of research units, helping to enhance Pfizer's Oncology franchise.
Pfizer Boulder's expertise is in small molecule drug discovery, and the team has a successful track record in targeting the very important RAS/RAF/MEK/ERK signaling pathway, which is central to many types of cancer. Over the past two decades, the Boulder team has built an outstanding reputation in drug discovery and development, including filing 27 investigational new drug applications with the U.S. Food and Drug Administration (FDA).
When the site became part of Pfizer, it brought a compelling existing portfolio, including the combination of BRAFTOVI® and MEKTOVI®. In April 2020, the FDA also granted approval of BRAFTOVI in combination with cetuximab for an additional indication. Additionally, Pfizer Boulder scientists are proud to have played a significant role in the discovery, development, or both, of several royalty-generating, out-licensed medicines, including a number of novel tyrosine kinase inhibitors that address significant unmet needs across many types of cancer.
Currently, the Boulder pipeline has a promising range of potentially first- and best-in-class programs that may advance the next wave of innovative cancer treatments, including several next-generation, targeted molecules that may have the potential to penetrate the blood brain barrier.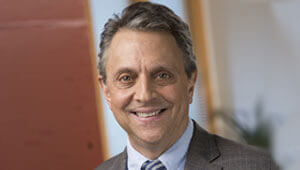 NICHOLAS A SACCOMANO, PH.D.
Chief Scientific Officer-SVP
Pfizer Boulder Research and Development