Improving COVID-19 Vaccine Access in Partnership with Amref Health Africa
Tuesday, March 28, 2023 - 05:00pm
Share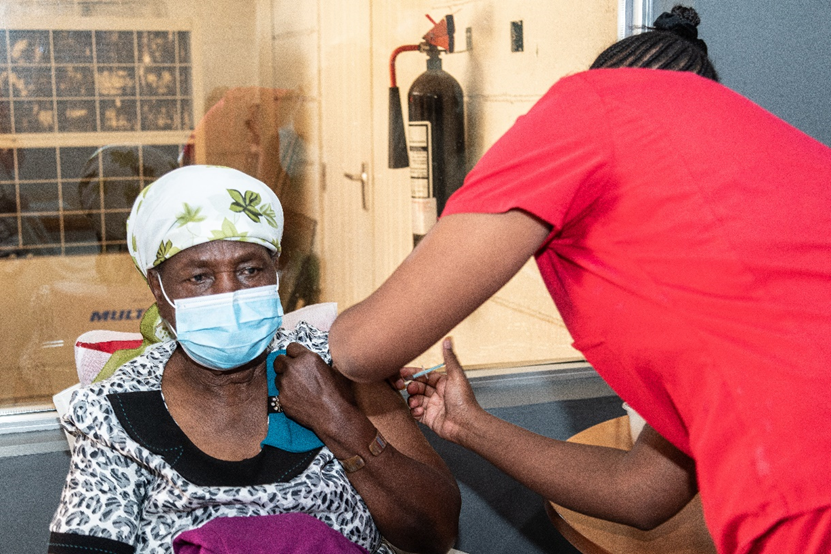 More than three years into the pandemic, for some, access to care to help prevent COVID-19 may only mean a 10-minute trip to a doctor's office or pharmacy. For many others, however, vaccines and basic healthcare, including efforts that help to treat and prevent COVID-19, may still be out of reach.
Despite advances to improve COVID-19 vaccine access, disparities remain. Nearly three in four people living in high-income countries have received at least one dose of a COVID-19 vaccine compared to one in three people living in low-income countries.1
The pandemic has shown, on a global scale, that without strong and resilient health systems, medicines and vaccines aren't going to reach those who need them.
The Pfizer Foundation partners with Amref Health Africa
That's why The Pfizer Foundation has partnered with Amref Health Africa, Africa's largest non-profit health and development organization, to increase COVID-19 vaccine access and strengthen health systems in Malawi, Senegal, Uganda, and Zambia. With grant funding from The Pfizer Foundation, Amref Health Africa is working with national ministries of health, local leaders, and health service providers to support community-based interventions with the goal of increasing vaccination coverage to 70% across these countries and ultimately preventing transmission, hospitalization, and death due to COVID-19.
"There is a clear inequity in the time that medicines and vaccines take to reach communities in many lower-income countries. We strive to help close that gap, acknowledging that there is no one-size-fits-all solution," says Caroline Roan, Senior Vice President, Global Health & Social Impact at Pfizer and President of The Pfizer Foundation. "We're proud to support the critical work of our partners at Amref Health Africa as they create localized approaches to bring quality health services to the community level."
Amref Health Africa's efforts
The communities this partnership aims to reach continue to face barriers in accessing COVID-19 vaccines, which are further exacerbated by the spread of vaccine misinformation, lack of trust in health officials and inadequate health information.
Amref Health Africa is applying strategies to help bring COVID-19 vaccines closer to those who need them. By collaborating with trusted community members and providing transparent and culturally specific health education, Amref Health Africa seeks to address the sociocultural challenges preventing people from getting vaccinated.
In addition, Amref Health Africa provides healthcare workers with critical training and equipment and, in coordination with ministries of health and Africa Centres for Disease Control (Africa CDC), supports the implementation of national vaccination plans. Close partnership with ministries of health and Africa CDC will help ensure program improvements aren't just seen for the duration of the grant but remain long into the future.
"At Amref Health Africa, our approach has always been to build sustainable health for all—and that starts at the community level," says Dr. Githinji Gitahi, Group CEO, Amref Health Africa. "With support from our partners at The Pfizer Foundation, we're working with community health workers as agents of change within each country to increase COVID-19 vaccination uptake, especially in underserved communities, and strengthen health systems in Africa as a critical pillar in attaining universal health coverage for health security."
An Accord for a Healthier World
The Pfizer Foundation's partnership with Amref Health Africa builds on Pfizer's commitment through An Accord for a Healthier World. The Accord is a first-of-its-kind initiative to enable sustained, equitable access to high-quality, safe, and effective medicines and vaccines. Alongside governments and multi-sector global health organizations, the Accord aims to improve the health of 1.2 billion people living in 45 lower-income countries, the vast majority of which are on the African continent.
All of these efforts and partnerships share a common aim: to help build healthier communities around the world and strengthen health systems, now and far into the future.
---
The Pfizer Foundation is a charitable organization established by Pfizer Inc. It is a separate legal entity from Pfizer Inc. with distinct legal restrictions.
References
1. Global Dashboard for Vaccine Equity. https://data.undp.org/vaccine-equity/. Published September 27, 2022. Accessed March 16, 2023.
Recent Updates and Statements