Meet the People of PGS: Julie
Thursday, May 27, 2021 - 08:00am
Share
Over the next few months, we will spotlight the names and faces behind the great work we do in PGS. First up is Julie, who believes she was destined to become a scientist.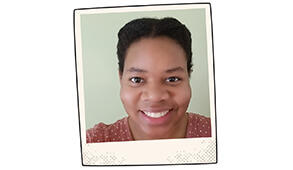 The signs were there when Julie started mixing her mother's beauty products to create "potions" with her sister at a very young age. She developed a love of math, which was inspired by both of her parents who immigrated to the US from Haiti in the late seventies. Julie reflected on what led her to pursue a career in STEM. "My parents were instrumental in my career choice. They always stressed the importance of our education and they encouraged me and my sister to try difficult math equations long before they were taught at school. I loved to learn, so engineering was something I was very interested in."
And so, it began for Julie, who is a scientist working with the Manufacturing Science and Technology group in Andover. Julie studied Chemical Engineering at MIT and went on to complete a master's in Chemical Engineering at Tufts University. Her thesis was titled 'Engineering E. coli to make biofuel precursor'.
Growing up, Julie knew the importance of striving for Excellence – one of Pfizer's core values. She applied herself and aimed to achieve more than she thought possible. In addition to her studies, Julie worked with a volunteer organization in her hometown of Revere, Boston. Julie reflected on her time at high school. "I had great teachers, they knew I was running toward something and they were there to support me along the way." Julie enjoyed her time at MIT and Tufts. Although it was a lot of work, she developed a great network and had a lot of great experiences during her time there.
Julie spent some time working at Pfizer's Bioprocess Research and Development pilot plant before joining the Manufacturing, Science and Technology group at Andover, where she is currently working on Polysaccharide and other Upstream Processes.
When asked about her work at Pfizer and what makes her most proud, she says "My sister is a doctor and we have both had our COVID vaccinations. When my mother visits, she always tells us how proud she is." Julie added, "I'm very proud of my team and all the colleagues across Global Technology & Engineering working on the COVID vaccine. I know how hard everyone is working."
Reflecting on 2020, when so much was happening around the world with regard to race, discrimination and protests, Julie is thankful she belongs to a global and diverse community at Pfizer. "It was a very difficult time, also because you don't know what your role is as a person of color. My family is very important to me, I have a new baby that needs me, so I really tried to stay focused within my own space and try to continue to shine in my own way, I don't have all the answers, but I do hope my daughter doesn't have to live through this the way I did."
Recent Updates and Statements