The Butterfly Club: Stories of Volunteers that Colleagues with Cancer Can Lean On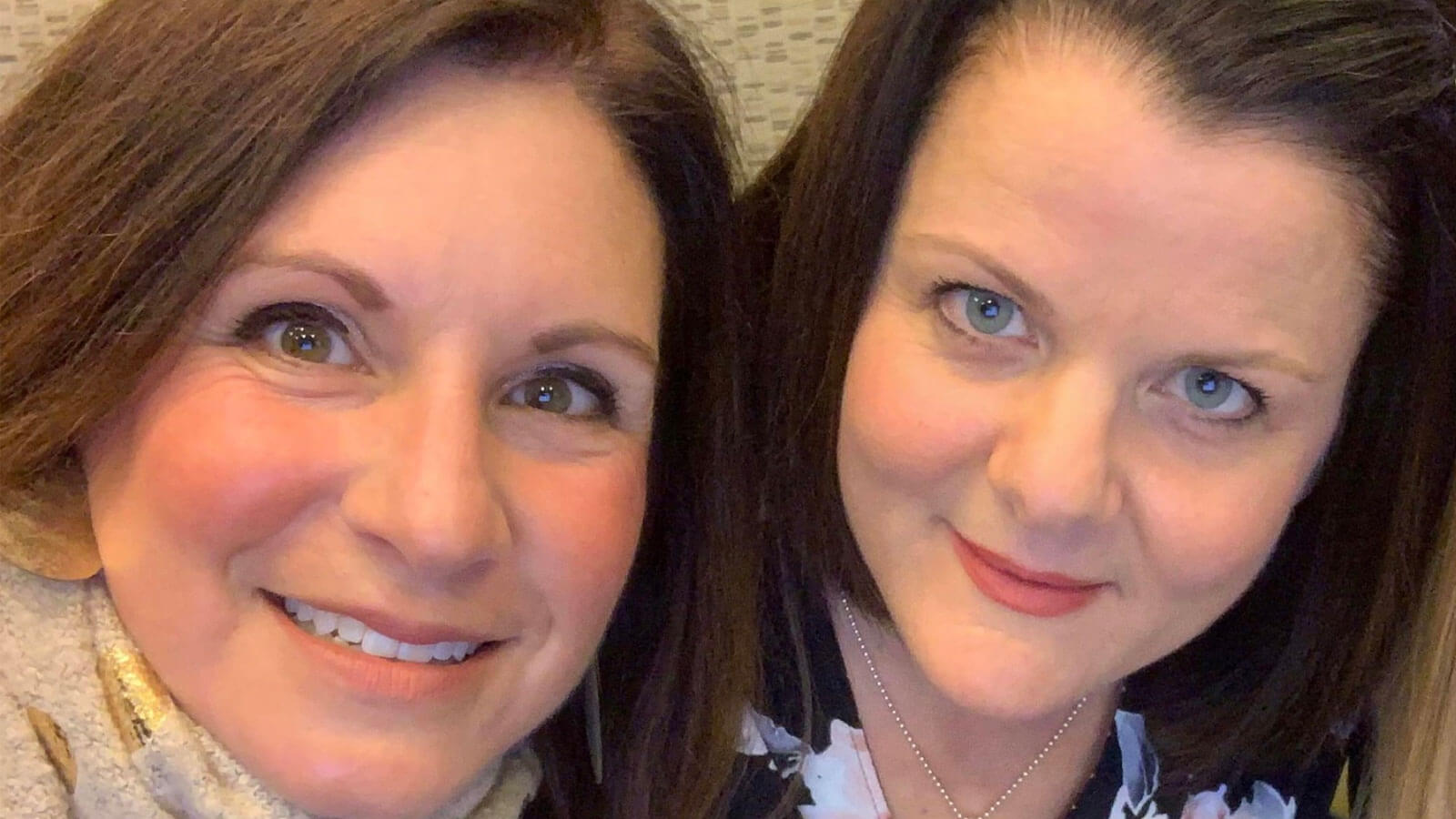 When Nikki Shaffer was diagnosed with breast cancer at 35, she had so many questions. How should she tell her three young children about it? Should she keep working? Would she see her kids grow up?
That was in 2009. As Shaffer went through treatment, a non-profit connected her with other cancer survivors, but she didn't click with anyone. "They connected me to people who were in their 50s when they were diagnosed, and their questions and their concerns were not the same as mine," says Shaffer, who is Pfizer's Director of Occupational Health and Wellness.
After completing treatment, she met Pfizer colleague Lynette Bojko; they clicked immediately. Bojko, who is Pfizer's Head of Strategic Sourcing & Business Management, was diagnosed with breast cancer around her 40th birthday. Also a mother of three, she'd gone through treatment and received a clean bill of health. She and Shaffer talked about how to use their experiences to help others. "You feel like a superhero," says Bojko. "You were given another chance at life, and it feels like there's nothing you can't accomplish."
They launched the Butterfly Club in 2012, an optional resource pairing Pfizer employees with breast cancer to support one another. It grew in members as well as in scope, eventually partnering with non-profit Imerman Angels, which matches people with similar cancer and life experiences.
For survivors like Shaffer and Bojko, the club also fulfills a purpose. "I hear all the time from colleagues who have gone through a cancer diagnosis and treatment and are on that lifelong journey, and they ask "What can I do to help others? How can I make their journey easier? How can I support them?" says Shaffer.
Here are the stories of three more Pfizer colleagues who were impacted by cancer who are now giving back.
Jim's Butterfly Club story
Jim Miller knows what it feels like to be paralyzed on his left side. He knows the terror of a doctor telling him he may never run again—or even walk. He's lain awake at night, wondering if he'll live long enough to start a family.   
In 1998, Miller was diagnosed with a malignant brain tumor. He was 27 years old and a newlywed. After going through surgery, chemotherapy, and radiation, he proved his doctors wrong. In 2002, he carried the torch—while running—for the Salt Lake City Olympic Games. He's a father to five children. And he's a mentor to countless people who have been impacted by cancer.
"The more you give, the more you get," says Miller, who's an Oncology Account Manager with Pfizer Oncology. "Every time I help somebody, I'm helping myself."
In 2007, before the parnership with the Butterfly Club, Miller started volunteering with Imerman Angels. He began sharing his story with others who had been diagnosed with brain cancer. It was his way of giving to others something he'd never had himself. "I didn't have somebody that I could ask, 'What's it like to have a craniotomy? And be paralyzed? How did you get through that?'" he says.
In 2021, Pfizer's Butterfly Club partnered with Imerman Angels to manage its internal cancer support program; Miller was thrilled to be able to help his own colleagues, as well.
In talking to others, Miller's goal is to give them hope, as well as practical tips. Mostly, though, he listens. "A lot of times I don't have to say anything, and somebody's going to tell me I changed their life," he says. "Because they know that I understand."
Alisha's Butterfly Club story
When Alisha Weed's daughter, Aubrey, was diagnosed with cancer at age 3, her fears as a mom were overwhelming. What helped the most was talking to another mother who had been through it. "I'm looking at my 3-year-old who is so incredibly sick I don't know if she's going to make it to tomorrow. But here I am talking to this person who has a teenager that's going to homecoming and she's looking at colleges and has this beautiful life and they are on the other side," says Weed. "It just gave me so much hope when I was in a place where that's exactly what I needed."
That was in 2012. Today, Weed, who is a Patient Access Navigator in Oncology at Pfizer, is doing whatever she can to help other moms by volunteering as a caregiver mentor with Imerman Angels—a group she learned about through Pfizer's Butterfly Club partnership. "There's no guidebook," she says. "They call us 'momcologists.' We become the caregiver, the nurse, the social worker, the advocate. We're all of it."
While she hasn't yet paired with a Pfizer colleague, Weed says she's thought about the areas where she can be most helpful, such as navigating internal resources. She remembers how lost she felt. "I was in the ICU calling HR, and I had no idea what to do," she says. "That added a lot of turmoil and stress because I just didn't know, other than my vacation time, what was even available."
In addition to day-to-day advice, Weed is eager to offer moms hope.
"Now, my daughter is a teenager going to homecoming, thinking about college. We're on the other side," she says. "To be able to go back and speak with someone who is where I once was is so incredibly meaningful."
Katrina's Butterfly Club story
When Katrina Johnson was 28 years old, she found a lump in her left breast. She made an appointment with her doctor, who dismissed it as a fluid-filled cyst. But when three months passed, and the lump was still there, she returned to the doctor and requested more testing. "Two days later I got the phone call," recalls Johnson, who is one of Pfizer's Directors of Advocacy and Professional Relations on the Oncology Patient Solutions and Alliances team. "It was triple negative breast cancer, which is very aggressive."
Fortunately, the cancer was caught early—stage one. And several rounds of chemotherapy and radiation proved effective. But Johnson's journey was just beginning: over the next two decades she would hear the words "you have cancer" four more times. Each diagnosis played a role in shaping her career, steering her work from the tech field into healthcare. She's now been working for Pfizer for more than 20 years.
She's also gotten married, had two kids, traveled the world, and embraced every experience as a privilege over the years. Now, it's one of her greatest honors to be able to share that experience as a message of hope through her role as a mentor and ambassador with the Butterfly Club. She says when she was first diagnosed, she didn't know where to turn. Now, she tries to guide people in any way she can.
"For someone who has been diagnosed, I am always happy to open my calendar and find time to try to help them in their journey," she says. "It's such a scary time. And I believe that community is what helps us have peace."
Hear more from Butterfly Club members
Whether scientific advances, finding strength in advocacy, or experiencing acts of kindness in unexpected places, breakthroughs in breast cancer research can be life-changing. Hear from members of Pfizer's Butterfly Club—a group of our colleagues who have been impacted by a breast cancer diagnosis—on breakthroughs they experienced during breast cancer treatment and why these moments are so important.
A breakthrough can come in many different forms. Hear from members of Pfizer's Butterfly Club—a group of our colleagues who have been impacted by a breast cancer diagnosis—on how they maintained a sense of hope and resiliency throughout their experiences.
The future of breast cancer treatment and research can provide hope to the millions of people impacted by breast cancer globally each year. Hear from members of Pfizer's Butterfly Club—a group of our colleagues impacted by a breast cancer diagnosis—on why more widely available resources, more cutting-edge scientific advancements, and more inclusive treatment options could help shape future advancements.
Breakthroughs in breast cancer can mean more time, more hope, and more opportunities. Hear from members of Pfizer's Butterfly Club—a group of our colleagues who have been impacted by a breast cancer diagnosis—on what these breakthrough moments mean to them.