Company Sponsors
Team Canada in 2012 Paralympic Games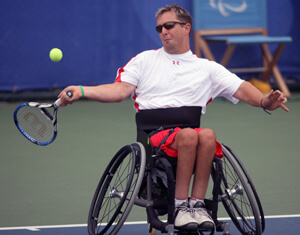 Wheelchair Tennis player Yann Mathieu at the 2008
Paralympics in Beijing
Pfizer Canada is sponsoring Team Canada in the 2012 Paralympic Summer Games in London. The company has supported the team for 16 years and in seven consecutive Paralympic Games since 2000 through a partnership with the Canadian Paralympic Committee (CPC).
Approximately 150 athletes will represent Team Canada at the Games, which begin August 29 to September 9. The world-renowned competition for athletes with physical disabilities will feature more than 4,000 competitors from 160 countries participating in 20 sports.
The partnership with CPC is well-aligned with the company's More Than Medication initiative that empowers Canadian families to take an active role in their health through partnerships such as this one, community programs and free health and well-being resources.
In preparation for the 2012 Paralympic Games, the Canadian Paralympic Committee and Pfizer Canada are honoring Canada's Paralympic athletes with a free, inspirational e-book.
A 'Meaningful Gift'
Written by Canadian author and educator Cynthia Pratt Nicolson, "Kids of Action" features two stories about two disabled children discovering Paralympic Summer sports for the first time. The book follows the 2010 release of "Kids of Courage," the partnership's inaugural storybook project that was created to increase visibility and support of the Paralympic Winter Games that took place in Vancouver.
More than 40,000 copies of "Kids of Courage" were distributed to public libraries and primary schools across Canada, and copies were also mailed to provincial and federal government officials in order to further support the Paralympics. The book tells similar stories about two disabled children discovering the Paralympic Winter sports. Parents, teachers, families and Pfizer colleagues can download both books online in English or French at the More Than Medication website. Also available online are an audio format narrated by CPC athletes and a Braille version.
"'Kids of Action' is a meaningful gift from Pfizer Canada, the CPC's longest-standing Canadian sponsor, that will help encourage young Canadian athletes for years to come," said Henry Storgaard, Chief Executive Officer, Canadian Paralympic Committee. "This e-book reminds us that action is the critical element that energizes dreams."
Sponsorship of the CPC and its athletes began in 1996 when Pfizer Canada supported a golf tournament fund-raiser and later became a major corporate sponsor six months before the 2000 Paralympic Games when it helped to send a team to Sydney, Australia.
"The main reason for Pfizer to support CPC is the goal we share of inspiring Canadians to live healthier lives, to be brave in the face of adversities and, equally important, to believe in yourself," said Linda Sheehan, Community Programs Manager, Pfizer Canada.
Over the years, as a part of the partnership, colleagues have sent personalized good-luck postcards and banners to the team. CPC athletes have also been invited to speak at corporate meetings and have participated with colleagues in Pfizer Canada's National Sports and Physical Activity Day.
"Paralympic athletes have become role models to many young people and have demonstrated their community spirit by volunteering their time and sharing their incredible stories to inspire others. This is a perfect fit with our belief that it takes more than medication to be truly healthy, as well as our commitment to be an active player in the vibrancy of our communities," added Tanya Brasseur, Senior Manager, Corporate Reputation, Pfizer Canada.
For more information on the London 2012 Paralympic Games, click here.
To learn more about the Canadian Paralympic Committee and its athletes, click here.